Exif
To use the EXIF tool, select the image first and then select the tool from the Photo tools fly-out menu. It is the farthest icon on the right.
The EXIF tool provides useful information that is embedded within a JPEG when the picture was taken.
The information that is displayed is what is set by the camera to embed in the JPEG it saves.
The image below shows typical information that can be found from the EXIF tool.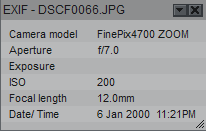 We can see from the information the JPEG file name, what model of camera took the photo, the aperture size, exposure, ISO, focal length and the date and time the picture was taken.
This information is the default information that is displayed, further information can be displayed by clicking on the down arrow in the top right of the EXIF tool display and selected from the dialog box.
Looking for information on other photo tools?
Enhance tool | Clip | Clone | Magic erase | Photo Healing tool | Red eye | Content aware scale | Content aware zoom | Levels | Panorama | Perspective correction | Exif | Opacity masks | Photo hue | Color erase/ selection | Background Erase | Photo Effects | Shadow & Highlight controls